In 1996, I started my first Taco Shack in Austin after pursuing the dream of having a family owned business since my high school years. Soon, my wife, Yoli, and I had a group of dedicated employees and several new "Shacks" to spread our great Tex-mex taste around Austin! Always, we appreciate your business and stop by if you're in the neighborhood and say hello to our other family members.
Sincerely,
Orlando and Yoli Arriaga
Owners bio:
Orlando and Yoli Arriaga
Orlando Arriaga grew up in Austin and is an alumnus of McCallum High School. He met Yoli while the two were attending St. Edward's University. As former teachers, the couple feels deeply committed to supporting local schools. They focus most of Taco Shack's promotional dollars on school sponsorships, such as the annual "Taco Shack Bowl" football game between rivals McCallum and Anderson high schools.
Orlando and Yoli Arriaga opened their first Taco Shack in 1996 at 4412 Medical Parkway in a small Central Austin building that formerly housed a barbecue restaurant. They have since opened seven more locations around Austin from downtown inside the Frost Tower location at 402 Brazos all the way up to Round Rock at 201 University Oaks Blvd. near the IKEA.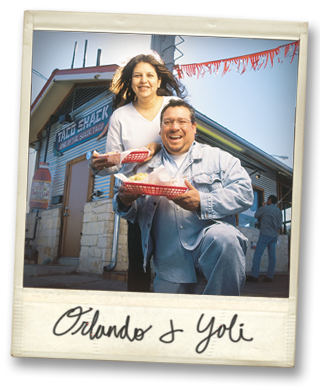 our mission:
We want our customers to have a new view of the fast food experience with our fresh food, friendly employees, and our fast service. Our goal is to take the fast food industry to the next level, not only to please the customer, but to leave them with a fun and lasting impression while maintaining the appearance and cleanliness of the highest standards. Always, we take pride in preparing and serving you your meal as if you were making it yourself. We thank our loyal customers of the past, present and future and in turn will continue to give back to the community which has helped us over the years. Remember, the Taco Shack way is everyday.